Bloody Mass Casualty Events Planned Nationwide to End White Supremacy Abuse
Tuesday, June 28, 2016 12:16
(Before It's News)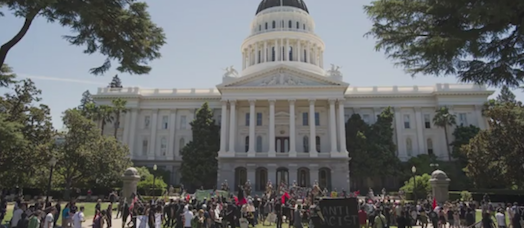 By Deborah Dupré
The
Sacramento white supremacy mass casualty event
that left 10 people stabbed multiple times, is only the beginning of bloody clashes across the nation, according to a self-denitrified militant organizer against white supremacists' genocide. The KKK and other pro-Donald Trump white supremacy groups plan to rally in his defense at the upcoming party convention in Cleveland; anti-fascist groups plan to stop them at all costs; and police reaction to the violent kick-off has been unprecedented to the point of baffling legal observers.
Police have "expressed concerns" about the risk of violence outside both the Republican and Democratic party conventions in Cleveland and Philadelphia next month, and in the run-up to the Nov. 8 presidential election,
according to
Reuters.
Citizens have expressed concerns about police officers' slow response to Sunday's mass causality event. In case the reader also wondered: That response was planned. Police failed to intervene after violence erupted at the rally when they were right there, on the scene, allowing the situation to devolve into a stabby free-for-all. Don Thompson reported that Associated Press confirmed that police planned the slow response to violence in its article,
"California police panned for slow response to Capitol clash."
"Authorities were anticipating violence as a white nationalist group planned a demonstration at the California Capitol, and they brought in more than 100 officers to patrol the grounds," Thompson reports. "But after 10 people were hurt Sunday, they faced criticism Monday about whether they were properly prepared or too slow to get involved when the demonstration quickly turned violent in a clash with a larger group of counter-protesters."
"It was basically a free-for-all," said Cres Vellucci, an observer with the National Lawyers Guild. "I was just appalled that nothing seemed to be done."
Police have defended their slow reaction, saying it all turned out fairly well – "no officers were hurt."
California Highway Patrol spokeswoman Fran Clader said CHP Commissioner Joe Farrow met with Sacramento Police Chief Sam Somers for about two hours Monday "in an attempt to look for some lessons learned."

Vellucci said his group was at the Capitol on Sunday to watch for police overreaction, but in this case the opposite happened. The California Highway Patrol and Sacramento city police failed to separate about 30 members of the Traditionalist Worker Party from about 300 counter-protesters who rushed to confront them, he said.

Law enforcement was slow to protect people who were attacked and slow to get them medical help, Vellucci said.

"We're not going to escort people from city streets or wherever they're coming from," said CHP spokesman Officer George Granada. "Everything turned out fairly well. There was violence, but it could have been a lot worse."

No officers or bystanders were hurt and less than $1,000 in damage was done to the Capitol when a window in a security pavilion was broken, Granada said.
'As legal observers, we have never seen it before. Never.'
Director of the California State University, San Bernardino's Center for the Study of Hate and Extremism, Brian Levin said counter-protesters made it clear on social media long before the rally that they intended violence.
"They could have physically separated the two sides, and they could have searched participants for weapons," Levin said.
Instead, police "simply watched without making arrests as demonstrators broke concrete-enclosed ash trays into chunks, Vellucci said. Law enforcement also was slow to intervene as counter-demonstrators bloodied two protesters with shaved heads, he said.
"In this case, it was like they just sat back and let it happen to a large degree," said Vellucci. "As legal observers, we have never seen it before. Never."
Media and police are portraying the militant antifascist members as "leftists."
"Fascists are dangerous. They need to be stopped and shut down by any means necessary," said
Yvette Felarca of BAMN in an interview after the rally. "
We can't just ignore them because they grow. They hold these rallies, not just to talk to each other. They're trying to recruit."
Reuters reported on Sunday's mass casualty event in Sacramento after speaking to one of the white supremacy group leaders. "The Traditionalist Worker Party, a white nationalist group, had called the rally in part to protest against violence that has flared outside recent rallies by presumptive Republican presidential nominee Donald Trump."
Militants under the banner of BAMN were among antifascist groups that protested the white nationalist rally. Reuters reports that, according to police, the counter-protesters confronted a local news reporter, shoving him, knocking his microphone to the ground and taking his phone and notepad.
"Protesters swarmed the Capitol from the west side, then north and south," the reporter, Mike Luery of NBC affiliate KCRA, said in a Twitter post on Monday. "We were attacked on the north side."
Anti-fascism leader of BAMN, Yvette Felarca told a reporter, "We're committed if they try to show their faces again, at any other rally anywhere, Bamn is building a movement to stop them with "militant, integrated, direct action."
BAMN
says on its website
that it is a "mass, democratic, integrated, national organization dedicated to building a new mass civil rights movement to defend affirmative action,integration, and the other gains of the civil rights movement of the 1960s and to advance the struggle for equality in American society by any means necessary."
The Traditionalist Worker Party have pledged to head to Cleveland to protect Donald Trump supporters from "leftist thugs."
The TWP believes that white people are oppressed by damn near everything in American society, according to their website:
"European-Americans are the descendants of indigenous people of Europe. They are often identified on government forms as Caucasian or 'white'. We believe that European-American identity is under constant attack by members of American institutions such as the state, education, culture and even churches. We reject racial supremacism, and believe all the world's peoples should embrace and celebrate their sacred heritage and identities"
Ten people were treated at area hospitals for multiple stabbing and laceration wounds. Anti-Fascist Action Sacramento said it suffered a greater number of wounded.
"So far, we know of six comrades who have been injured to a degree that required hospitalization," the group said on its Facebook page.
Traditionalist member Matt Parrott
told McClatchy
, in an interview that they'll be attending the Republican convention in Cleveland:
…. Parrott, who blamed the anti-fascists for the riot, said about 30 members of his group would come to Cleveland.

"We're essentially just going to show up and make sure that the Donald Trump supporters are defended from the leftist thugs," he said.

Parrott said he expected Cleveland police to largely prevent violence with heavy security, although "there might be a couple of isolated skirmishes."

"You're going to have a relatively civil event where you're going to have the leftists protesting Trump and you're going to have us arguing up against the leftists," he predicted. "And you're going to have the police there ensuring that you're going to have a first world situation and not some sort of 'Gangs of New York' knife fight."
Parrott's last statement is nonsensical in light of Sunday's mass casualty event.
Related Articles By This Author